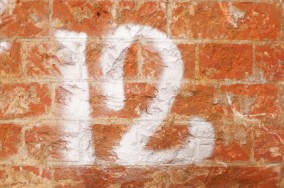 Because 12-12-12 doesn't happen very often, here goes, 12 ways to improve your marketing by attracting more new customers and increasing sales.
1. Ask Your Customers
How can you improve customer service?  How can you sell more to current customers?  What additional services or products make sense to add?  What weaknesses should you commit to improving in 2013?
Ask your customers.  THEY have the answers to all these questions and more.   Ask, then shut up and listen.
2. Create a Customer Mission Statement
"To stay on the leading edge of innovation by providing solutions. . .blah, blah, blah."  You could say mission statements bore me (and you'd be right).  But that's not the point.  Most do NOT reflect the concerns of the customer.  Write a customer mission statement.  It will be shorter, simpler and far less flowery than yours, if you have one.  But it will serve you and your customers well; and isn't that the point?!  Mine: To find and use a marketing consultant I can trust and afford, one who will truly care about MY business and a marketing consultant who gets results.
3. Simplify Your Website
Half the people who find your site on the internet don't make it past the home page.  The average visit is about two minutes.  The average number of pages visited is about two.  These aren't my opinions.  They are the facts.  So, you need more information on fewer pages.  Simplify, simplify, simplify.
4. Plan A Little, Test A Lot
Plans are good, but going live (testing) is better.  Think about your options and consider what things will cost.  But start small tests quickly.  Test your assumptions, because that's what a plan is, assumptions.  Then react to the actual results you are or aren't getting.
5. Tell a Story
Stories are in our DNA; from cave walls and campfires to the websites of today.  A story is not, however, stringing together features, functions and benefits.  "As more and more people use the internet to search for what you sell, owners like you are staying up late to understand more about who's coming to their site and how to start a relationship with each person.  And more and more, they're turning to people like me to help them."  Or, "I'm an internet marketing expert, offering traffic generation, both paid and organic, and on-site conversion optimization."  Which version resonates with you?  Tell a story.
6. Tell Your Story
People want to know your why.  With the internet bringing so many competitors one click away, the traditional things that made us different don't matter anymore.  Do you really think selection or service or quality or largeness or smallness really makes you different?!  Your why, your uniqueness, is the thing you can say nobody else can.  That's your story.  Tell it!
7. The Computer Screen is the New Marketing "Stage"
Does your website create a great experience for a visitor?  Are you holding remote meetings and sales calls on your computer?  Is your presence on the internet broadening outside your website and onto the social media platforms?  Do customers look forward to your emails?  In all these ways the computer screen is replacing print ads, direct mail and trade shows as the new marketing stage.  What kind of show's happening on your stage?
8. Contact MORE People
The physics of marketing are simple.  Contact more of the right people and the odds you'll get a response go up.  Why?  Only a percentage of those you contact  are open to your message at that moment.   The larger the number you start with, the larger the number of people that percentage represents.
9. Contact Those People MORE Often
More marketing physics: Contact those people more often and the odds you'll get a response go up.  Why?  Only a percentage of those you contact  are open to your message at any moment.  Contact them more often and the  likelihood you'll reach them when they're open and receptive goes up.
10. Be Where Your Prospects Are (And where they are has changed!)
You know this, you may simply be dragging your feet in making the change.  But people are increasingly NOT at trade shows and NOT reading trade publications and ARE searching the internet and ARE networking via LinkedIn Groups and ARE hanging out on Facebook.  Just because the places your prospects are may be new to you doesn't excuse you from not being there.
11. Just Start
Sure, there'll be a time when you'll have more time, more money, less risk, more mental bandwidth, etc., to start improving your marketing.  But DON'T' BUY INTO THAT CRAP. Just start.  Just start.  Just.  Start.
12. Marketing is EVERYTHING
Marketing isn't what your ad agency or web developer does for you.  It isn't what your sales manager does for you.  It isn't those brilliant (sometimes) ideas you get when you least expect it.  It's much more.
Marketing is everything you do and everything you are.  You are in the marketing business.  Everybody on your payroll is in the marketing department.  Start acting like it.  And get Shelly in accounting to start caring about customers or find another Shelly.
So, which one or two got a smile, or got you shaking your head?  Great!  See #11 for further instructions.