Hello. I'm glad you found me.
You're right to have your guard up — to be more focused on finding reasons to leave than to stay. And if I can't give you at least a couple reasons to stay in the next 60 seconds then you'll be right to leave.
You see, this is a big part of what I do for clients: attracting people to websites and connecting with them.
I've learned a secret along the way:
Present a concise, authentic picture of who you really are and you'll attract the people who are looking for exactly that. Then, you don't have to do a big song and dance or discount your price or manipulate people. Work hard for the right fit and sales take off.
A remodeling contractor came to me with a new patented product and was ready to really push it.  I discovered before we could talk cool new patented product we needed to earn people's trust (homeowners don't understand remodeling costs and don't trust contractors).  Their marketing told their story.  THEIR REAL STORY. And had nothing to do with their new patented product (they really had to take a deep breath to buy off on this). Their sales doubled. And doubled again, and again.  They found me 17 years ago and we still work together.
I know, a secret is supposed to be sexier than presenting a concise, authentic picture of who you really are. Especially one that works. Sorry, it doesn't work that way, and I've been at this for 30+ years. Sexy secrets are designed to sell you something, not help you sell something.
Just because your sales have slowed doesn't mean people have stopped buying.
It means the ways you traditionally sell to the customers you traditionally sell to aren't working anymore.
I'm a small business marketing consultant.  I get hired when things are tough, not when things are easy.  
Basically, owners hire me for three reasons:
To re-focus their marketing strategy.  Or focus it for the first time.
To strengthen the story they tell.
To improve how things get done.
Can I get results for you?  Judge me from this page.  Have I made you feel comfortable?  Have I begun to demonstrate I understand your pain?  Do you have a sense I might be different?  To be effective, your marketing needs to accomplish these basic things.  Whether it's a landing page like this one, a brochure, email or letter.
There is one more thing effective marketing must achieve: a response!!  And to accomplish this, you need to present appropriate, non-threatening calls to action.  Such as-
Send me an email (hamilton@smallbusinessmarketingconsultant.com) and let's start the conversation.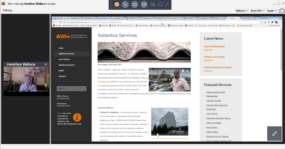 Or, drop in on Tuesday or Thursday mornings at 9am PT, 12pm ET.  I have open office hours via net meeting.
That's me at right talking about a landing page. Ask a question or just watch:
You're this far into a page about someone you don't know because something I've said strikes a chord.  I worked hard to accomplish that, and I can do it for you.  Call or drop in online.  I'd love to hear about what is standing in your way.
Sincerely,
Hamilton Wallace
hamilton@smallbusinessmarketingconsultant.com
Main: 480-948-0029