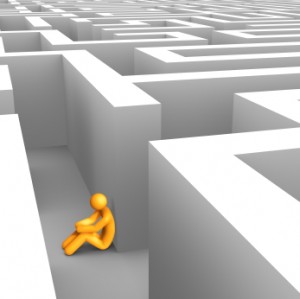 Hunkered down with your marketing on hold?  Waiting this thing out?
Don't.
Now may be the new normal, with the economy headed for a reset, not a rebound.
Bummer!
Reset: an economy that improves some, but does not rebound to where it was before it fell.
Or so says people like Jeff Immelt  of GE, Steve Balmer of Microsoft and company leaders at a growing list of companies like Avon and Waste Management.
An article in the  latest  issue of Fortune Magazine by Ram Charan, a seriously smart guy, says as much.  He describes what some of the above-mentioned company leaders are thinking and doing in today's economy.  They stopped waiting, according to Charan, and started doing one or more of four things:  search for the right growth; only worry about what you can control; accelerate innovation; and narrow your focus.
The two that relate most to small business:
Search for the right growth-
Who is buying?  The answer may be outside your current customer mix or lie in a small segment of customers you now serve.  Find those people, understand what they need and start getting good at meeting those needs.   And remember, if it is a small segment of your current customers, this doesn't mean it's necessarily a small market.  It means you've only attracted a small segment of that market.
Accelerate Innovation-
Innovate your way through it!   Yeah, whatever.  Great advice for an article or large company, but what about for you, especially if you really are struggling.  Right?!  Well, actually, yes.  Right.
You can and should innovative your way through it.  Remember the old saying, insanity is doing the same thing over and over and expecting a different outcome?  Doing the same things to attract business now you were doing 12 months ago won't work.
I've been a marketing consultant for, well, let's just say, a very long time.  Almost without exception, the biggest breakthroughs I've been part of happened when clients invited me in when things were really bad.  Less to lose.  More willing to let go of past strategies.  So, go ahead and innovate, the good news is great things can happen.
The other piece of good news: innovating doesn't have to be expensive.  It does have to be, uh, well, innovative.  Different.  It has to take your value proposition one notch up the scale.  It has to re-align you with the changing wants of those you want to attract.