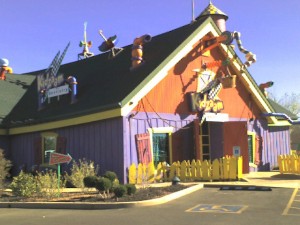 If you've been through Prescott Valley Arizona you've seen this building. It's a dentist's office. I have to believe the dentists  are wildly successful. They even have a cool website where you will find they practice Dentaltainment (their trademark).
Think about it.  The most compelling aspect of this business has absolutely nothing to do with whether or not the dentists are good dentists. They are, however, handling two big hurdles: kids don't like to go to the dentist; and it's a burden on parents getting their kids to the dentist.
And think about it some more.  Don't you assume any dentist whose office looks like this is great with kids? And oh, how about promoting the business?  The building does it.
Dentaltainment!!  My hat is off these very smart and creative dentists.