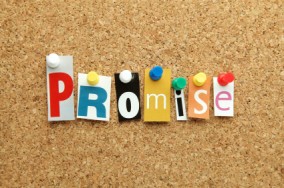 I'm not a big fan of mission statements for small businesses.  They're fine, they just don't make much of a difference. I was, however, intrigued by Michael Schrage's book "Who do you want your customers to become?"  A good book and a short read.
He suggests companies also develop a customer mission statement.  A mission statement written from the customer's perspective.  Because, after all, customers don't  really want or care about the fact you promise to strive toward being "A leader in innovation, developing new solutions that lead the . . . .blah, blah, blah.  They want a vendor they can trust, that is responsive and will stand behind what they sell. THAT'S a promise they can get excited about.  You can leave your fancy mission statement on your website, but don't spend a lot of time with it, and don't put it front and center.
Invest instead in crafting a customer mission statement.  What do customers want from companies like yours?  What inspires them and intrigues them and gets their attention and makes them loyal to a company like yours?  What would make them tell their peers about you?
This is the mission statement that serves us AND our customers.