The beauty of working together as your Virtual Director of Marketing is that we, you and I, look at your marketing for what it is: a mix of things that work with or against each other.  My experience is fixing just one thing isn't enough to increase sales.  And isn't that your goal?? It's mine.
So, better to assess what's working and what's not, quickly, and start working on what needs fixing, than to say "We need a new website" or "It's time to update our brochure."  Better to start executing new ideas, measuring results and making changes. Better to have a Virtual Director of Marketing!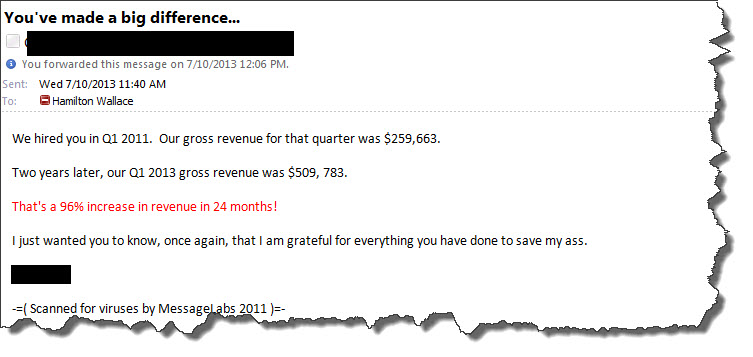 The good news is it's never been easier and less expensive to do just that.
The amazing thing about today's digital world is it's never been easier or less expensive to find the solution that fixes the problem.
We can add a webpage to your site and push a few hundred people through it, next week.  In a matter of a few weeks and a few hundred dollars we can test new offers, different customers, new ideas, etc.  Can you sell more swimming pool interior surfaces by talking to people looking for new decking?  Yes, it turns out you can.  Can you sell a $34 piece of software to people looking for the free version?  It took us a while to figure it out, but yes, you can.  Can you attract technical product management projects by sending a general product management message?  While I wouldn't have guessed it (until we tested it), yes, you can.
The Process:
When you hire me as your Virtual Director of Marketing our first step is to understand what's working, what's not and to prioritize an action plan. I interview you, your customer contact people and some of your customers. I look at what you're doing and what your competitors are doing. This takes between two to four weeks. Normally, by the end of month one we've agreed on a plan of action and are implementing.
I'm a big believer in "going live" as early as possible. Nothing (NOTHING!) takes the place of real feedback from real customers and prospects. They either take the actions we ask them to take – buy, request an appointment, sign up for the webinar, download the report, etc. – or they don't. I'm happy to talk more about this first step with you. This process is important to the success I've had for clients and it's important you understand how it works.
The balance of the time is spent executing, measuring, refining and repeating the process.
So, you ask, what do I do as your Virtual Director of Marketing??
The action plan we create and start implementing during month one will tell you exactly what needs doing (what I'll do).  But you don't have that plan yet.  The real answer: I do what needs to be done, in priority order.  But that doesn't answer your question either, at least not now.
Let's go back to those maybes for your answer:
Maybe your site isn't converting enough visitors into leads or sales.  I can change that.
In addition to my experience generating online leads and sales since 1996, I use a handful of tools to watch and measure visitor behavior (Analytics, events, goals, session recording).  These let me observe how people engage with your site content and inform changes to your content on a  weekly basis.  It also lets me track the behaviors we want visitors to take back to how people come into your site, so we can attract more of those people.  If someone isn't observing, testing, changing and refining your site content every week, someone's asleep at the wheel.
We took a client's cost per sale from $29 to $6 in 60 days by doing exactly what I described above.  It's now at around $3 per sale.  Every client I have enjoys their lowest cost per lead and cost per sale from their websites.  Every client.
Maybe you aren't sure what to do next, and you want to be right.
I can't guarantee our first step will be the right step.  But I can guarantee we'll find the quickest, least expensive path to the right step.  I told you I'm a big believer in going live (testing) quickly and inexpensively.  I am.
How to Hire Me
Hire me to be your Virtual Director of Marketing.  During the relationship we meet once a week via GotoMeeting.  We'll review what happened, make adjustments and agree on what to do next (remember the plan I talked about in month one?).  Between meetings I'm working on tasks and moving things forward.  I'm free to look at anything and everything (NOT just one thing, NOT just the thing you believed needed fixing).  You'll hire me for three months at $2,500 per month. At the end of three months we agree to continue for another three months, re-focus my work to a single project, or we part company. We have that same conversation every three months.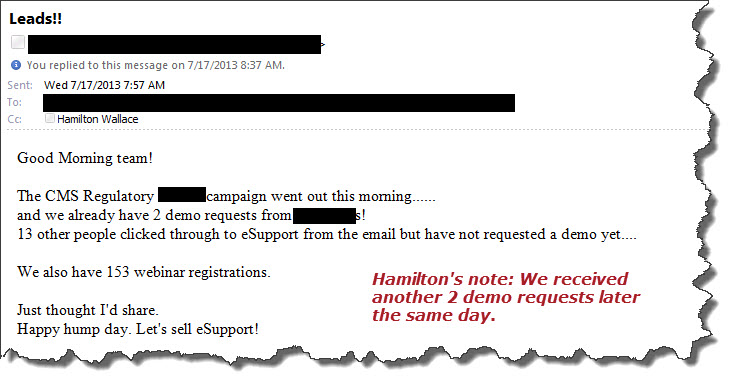 Why Hire Me
We're responsible for generating 200+ leads per week for our clients.
When you hire us you get me.  My why.
We bring in approximately 12,000 visitors to our clients' websites each week.
I've spent my entire marketing career doing direct response marketing; marketing that asks someone to take action. I focus on results (response). This is very different than making pretty brochures and good-looking websites.
We convert approximately $850,000 per month in sales from website traffic for our clients.
I'll talk to your customers to inform our ideas. No one-size-fits-all answers here.
We send approximately 150,000 emails each month for clients.
Clients use me as long as I'm making them money. Three of my clients have been with me more than 15 years. Four other clients have been with me for over seven years.

My Background
Second generation Arizona native / Jock / BA, Reasoning, Logic & Persuasion, Drake University / IBM / Realized I don't like big companies / MBA, Arizona State University / VP Sales & Marketing for two small companies / Tried to buy one, the board laughed at a 27-year-old with his checkbook in hand / Declared myself a marketing consultant, prayed someone would hire me / More than three decades of working with small companies / And now here we are, you and I.
Let's talk about what's happening right now with your sales.  Call me at 480-948-0029 or email me at hamilton@hamiltonwallace.com.
So again, is it time to talk about what's happening right now with your sales.  Call me at 480-948-0029 or email me.  If not me, try these guys.  They're all different.  All terriffic.