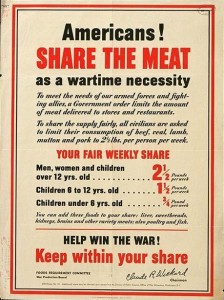 One of the posters that struck me from an amazing collection of World War II patriotic posters at Northwestern University.  Asking everyone not fighting to do their part to win.  From cutting back on what you do and consume, to saving everything you can.  And growing your own food.  Which the people of that generation did: 4o% of the vegetables America consumed the last year of the war came from their backyards.  Think about that.
Not to mention the gross meats they were suggesting people eat to save on beef consumption (click on the poster to read it).  Imagine the equivelant today.
Go see their wonderful collection and please, leave a comment with your favorite.