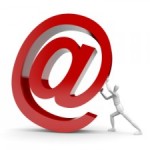 Every marketing consultant worth their salt are telling clients to communicate, communicate, communicate.  And email (email marketing) is still the preferred method by which people do that.
But (small problem) the trick is not sending email, but getting your email read.  Which primarily rests on the shoulders of your subject line and in the first few seconds people spend with your message.  More people will read your email on your next send if you do these three things.
Be Clear, Not Clever, on the Subject Line
Don't assume people will open your email just because it came from you.   The subject line must convince them it has value as it competes with a few dozen other email messages in people's inboxes.   So, be clear, not clever.
"Hear Music as You've Never Heard it Before" is clever.  "New Shure Travel Headphones" will get more people interested in travel headphones to read your email.
Clever: "How to Solve the Productivity Paradox."  Clear: "New Time Management Training on CD."  You get the idea.
Keep Your Subject Line Between 35-45 Characters
While shorter isn't always better, most preview panes only show about 40-45 characters.  Less for laptops.  So, make sure your subject line doesn't show "Special Discount: Take Up to an Additi. . ." when you wanted to say "Special Discount: Take Up to an Additional 25% Off!"
Write the Subject Line Last
This ties back to clarity.  If you write the subject line last, it will likely be the most accurate representation of what the message is all about.  And you've experienced this.  You sit down to write about a topic and in the process you gain some additional clarity about the issue.  Which shifts what you end up writing.  So, write the subject line last.  And give it its due.  Spend some time with it.
A good way to sharpen your subject line "chops" is to go to the deleted folder in your email program and look down at all the messages.  Notice the ones that get your attention and those that don't.
Make Sure Your Message is Scannable
Okay, this is #4, but I wasn't all that good at math.  People scan documents before they read them.  Email included.  If they see a big glob of text, that doesn't exactly inspire digging into your message.  A mix of paragraph lengths, bullets, indents, bolds, etc., all add interest and readability (scannability) to your message.