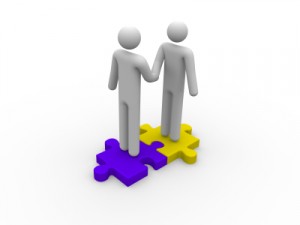 Just read a good post by Naomi Dunford on Copyblogger.com not so delicately titled "7 ways you're screwing up relationship marketing."  Good blog, by the way.  I follow it, you should too. Naomi's point is well taken.  We can make a mistake in the practice of relationship marketing with too much relationship and not enough marketing.  To paraphrase: don't forget the call to action; don't forget the compelling offer; and don't forget to ask for the business.
At its best, relationship marketing delivers enough value to your audience that they keep paying attention to your message often enough that when the time comes to buy what you sell, you get a shot at the business.
At its worst, relationship marketing simply fails.  People don't understand what you do, they don't see value in your message, they stop seeing your message; basically, you don't exist.
My advice?  You HAVE to practice relationship marketing today.  It's something you should have been doing the past five years.  It's the only way you can create enough "permission" in your target audience, assuming your target audience are prospects, not current customers, to generate enough frequency to create results.
Phew.  That's a mouthful.
Here's what I mean.  The more often you reach out to prospects the more likely you are to land on their desk or in their inbox at a time when they need what you sell.  The more interesting and valuable your contacts, the less "salesy" they are, the more often you can make contact.  And that is true for any form of marketing: online; offline; in the social media space; you name it.
Where this breaks down is, as Dunford reminds us, when you forget the marketing part of relationship marketing.  But, as I point out, people can also stop listening if you get too salesy.
Where is the happy medium?  In the social media space, you might engage in "the conversation" 10 or 15 times to add value for every time you mention a new product or offer.  Much better in this space: attract them to a blog post or page of useful content on your site; use a sidebar or insert on the page to make a related offer.  Example: the page gives business writing tips; the sidebar advertises your business writing seminar.  And don't for get to make them an offer!
How about email or direct mail?  Use a four or five to one ratio of value-added content to selling content for email.  With direct mail, you can always include an "About Us" panel or section of the piece that tells what you do and makes an offer for your product or service.