In the music world it's obvious.  No artist would dream of trying to sell a song today that sounds like something they recorded 10 years ago.  Madonna is the poster child for changing your product.  Love her or hate her, she's reinvented herself and her music time after time to meet a changing marketplace.
And that's her marketing secret.  And that's why you need to be like Madonna, changing your product to meet the changing marketplace.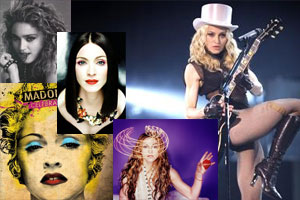 You see, here's the problem, and I talk about it a lot because I see it a lot.  Small business owners change everything about their marketing except their product–what they sell–when they see sales slipping.
A bigger ad, a different ad, a sale, new logo, different colors on the trade show booth, and slick new video demo.  But the same old product.
What song are you singing?
A moldy oldy or something people want to listen to?  Today!!  But, you say, "We we're accountants or we resell flow meters, how can we change?"  Well, there are easy ways and hard ways.  It's easier to add or take things away from what you sell: bundle services or additional products; unbundle; change how you ship; sell through a different channel; add training or support; stop offering training or support.
It's harder to fundamentally change your product.  Are you an accountant with flattening revenues from tax preparation, quarterly returns, but revenues are up from advising on and helping set up accounting software?  Are revenues from flow meters — your core business — down, but demand for your energy audits up?
You get the idea.
There are lots of options around the emotionally difficult challenge of changing your product.  But sometimes you have to "put everything on the table" in terms of what's up for change.  Right?  Well, get started!!  And maybe, as they say, you'll change your tune!  Better late than never. . .