You know you can grow faster, you just aren't sure how.
I've been helping small business owners grow for 30+ years.
Together, we can figure this out.

Hire us to Assess, Recommend, and Implement. The process takes 60 days. We're implementing during month two, testing what we learned during the Marketing Assessment. We do our homework, make our recommendations, and get into implementation as soon as possible.
I've probably seen just about every problem, barrier, blind spot, and situation imaginable. Really. And each situation is unique. That's why the ARI process. It produces specific answers to your specific situation and gets us into testing them quickly. 

Assessment & Recommendations. You know more about your business than I'll ever know. Your customers represent a treasure trove of information as well. During the assessment we go to school on what you know, what you believe, and what you want to happen. I also want to understand, in their words, not yours or mine, what you customers believe, where they're headed, what's important to them now, not two years ago when you re-did your website, and how they find companies like yours.
I keep our recommendations simple: who we talked to, what they said, what we recommend and why, what it will cost and what does a time frame look like.

Our Recommendations. This won't be a beautifully bound one-year or five-year marketing plan. We recommend a next steps plan; things we can take live within 4-5 weeks from when you hired us. Things we can test and refine, and test again. That's how you move from "I'm not sure what to do next" to refining things that generate new prospects and customers quickly and inexpensively. And it may be the one thing that's missing from your marketing right now.

Implementation. It is what it sounds like it is. We try to go live (starting implementing) as fast as is appropriate. Getting a new idea in front of 150 of the right people and measuring their response is the ONLY WAY you can know if a new idea will work. Sorry, your opinion doesn't matter. Neither does mine. Did they "get it"? Did they respond?
This is why we do our homework. And this is why we get into implementation as quickly as possible.

We'll take small, measured steps. We'll test, refine, measure and repeat. The 60-day Assess-Recommend-Implement process generally runs $3,500 per month. At the end of the 60 days we'll figure out what relationship we should move forward in.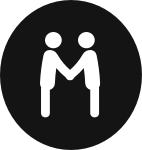 I'd Love to Learn More About You
If something on this page strikes a chord with you I'd love to learn more about what you're up against. And, I'm sure you have a million questions. At least, I hope you do. You can call 480-948-0029 during regular business hours, MST, email me or complete the form.