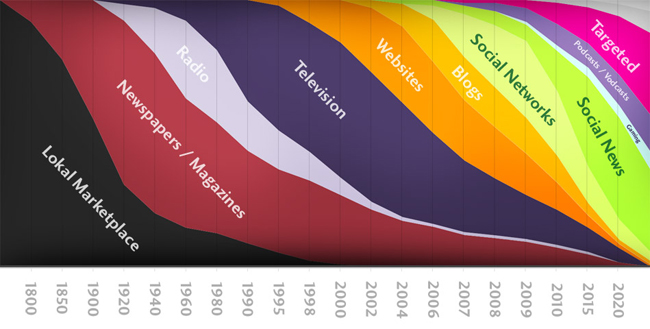 Remember the old political quip from Bill Clinton's first campaign, "It's the economy, stupid"?  It was written throughout his HQ to remind everyone the economy was the central issue of the campaign.
Thanks to Steve Rubel for linking to Thomas Baekdal's post Where Is Everybody? in which Baekdal creates a graph (reproduced here) that shows how much how we communicate with each other has changed.  It also makes my marketing quip, "It's the Message, Stupid!", even more obvious.
My point: don't forget your marketing message!!
Everybody's all hyperventilated about whether they should focus on Twitter, continue to blog, give more time to LinkedIn, Facebook, FriendFeed, DIGG and on and on and on.  The same way I imagine they hyperventilated about newspapers, magazines, radio and TV, as the electronic word began to overtake the printed word.
It's the message, stupid!  Yes, be mindful of how you communicate.  No, that isn't enough to be successful.  If you have nothing to say or a me-too product, you simply won't get much traction or notice or attention, regardless of which social medium you employ.
Does the medium change the message?
Sure.  But only the scale, you still need a message that resonates with your target audience.  Imagine your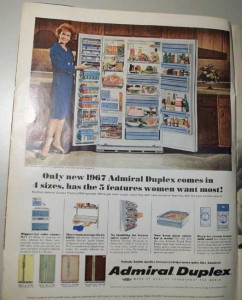 self a marketer in 1967 tasked with selling Admiral refrigerators.  You just finish this nifty full-page ad in Life magazine and they want you to do a TV commercial.  How do you cram all that information into a short TV spot?!  Good question.  And actually, the answer is you don't.  You need to take the core of your message and work with that.
Fast forward. . .you can't even fit that nifty headline into a 140-character tweet!!  How about a 95-character Adwords ad!
Be where your customers and prospects are going for their information.  Clearly, that includes social media.  But make sure you also focus on the message.  Being at the right place isn't enough.